If you like my photos, writing and reviews, like my new facebook page as well! (CLICK
HERE
)
Purple top, electric blue vest, more blue more blue, um let's pair with some jeans. Um not enough blue, I've some glittery wedges to add.
Excessive? Not really. In the world advocating 'less is more', we may be unconsciously feeling obsessed with the idea of the more the better.
Makeup too much
1/ Because you know, the Japanese manga female characters have HUGE eyes, and larger eyes = innocence and appeal, so we wear the biggest darkest contact lenses possible, and add false lashes with a thick eyeliner, so curly as if it can collect dust. In the end, I don't quite see ' big eyes', I only see lenses and lashes. But it doesn't matter, 'cause they are the same, right?
2/ On the other hand, because I'm all natural and guys like girls without makeup, we shouldn't do anything against the nature. No eyebrows plucking, no legs waxing, no sunscreen no nothing. 'Cause we're all
organic
and so we should let the hair grow as much as it wants!
3/ To look as if I have been burnt in luxurious holiday, we go tanning salon every day and we're so hot we are almost like Adrima Lima. I'd rather go orange than to be normally pale!
Fashion too much
4/ The taller the better, so let's go for sky-high heels! Um because my feet are literally shorter than 6 inches so I can't quite wear 6-inched heels, but we have platforms! Ok, so my platform is 3' and it can further go up 4 inches. Oh yea, I want a boyfriend taller than Yao Ming!
5/ Stones are precious, and we are going to wear as many rings as possible. I spotted the skull-like ring from sale, let's pair it up with a rosary vintage-y ring,um the last finger is quite empty so maybe plastic marni-inspired one?
Relationship too much
6/ 'Cause we've learnt so much from books and so we're no less than experts in relationship advice. You know, baby, you should not call him before he calls you, that's to dangle the fish in front of a cat.
Pets too much
7/ Poddles should wear socks and little shoes when they go out, and my little baby queen has a mini tiara on the Queen's Diamond Jubilee, totally festive! She has champagne (for pugs) for tea in her little royal outfit too.
Balance, balance. Going too far is harmful to the environment!!! Imagine all the visual pollution and high stress level. Let me go home to tone down my outfit a bit. Hugs ladies!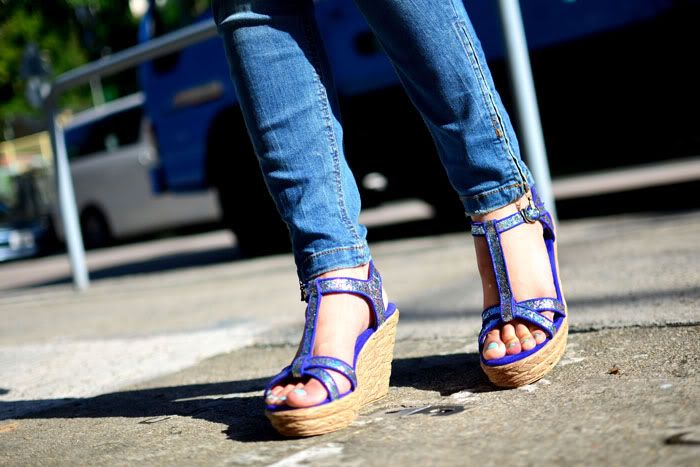 Wedges Belle// jeans Stradivarius.es// top Zara// vest Enigma//