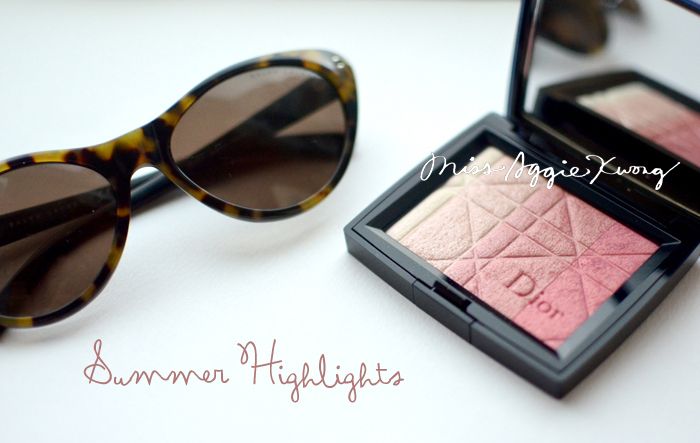 Seriously, what do I want to highlight? Highlight my flaws?
Highlighters are mysterious. A swipe can bring out the glow (if I have any) and hide the dullness of my face. But even as subtle and translucent as Dior Rose Diamond, it seems inevitable that highlighters do enlarge my pores when you look closely. But hey, this is life, more fun, more flaws. When you want to be perfect, you lose the point.
I have to admit that Rose Diamond is not my first choice (Why has Amber Diamond been discontinued in Hong Kong?) but it's very finely milled. It contains the finest powder, and I wouldn't call it shimmery. It's a truly translucent, pearly highlighter that brings glow, not glitter to my face. When swirled, I get a delicate sheer cool-toned pink glow on my light medium skin (NC 20-25), and one swipe can brightens up the whole face. Highlighters may also be seen as discretionary in makeup, but I would definitely reach for it especially when I am using a matte blush that might look dull. And I am surprised that it lasts for a decent 6-7 hours!
It does enlarge my pores, but only when look closely. Well, maybe my pores are big to start with, so who am I blaming?
Texture: 5/5 A true highlighter that's not shimmery, but translucent. very finely milled.
Function: 4.5/5 one swipe can brighten up the face, but enlarge pores
Longevity
: 4.5/5 lasts for a decent 6-7 hours
Packaging: 5/5 luxurious, comes with a velvet case
Price: 3/5
€36
for 10g, and you only get to apply it on certain parts of your face
Overall: 4.4/5
Can you see the subtle difference? I am wearing Chanel Joues Contraste blush (44 Narcisse) and Nars Laguna Bronzer. Both of the textures are sheen, and adding the Dior highlighter completes the look.
Any suggestions for warm-toned highlighters to wear for beach parties? (Ahhhh, I still cannot get over Amber Diamond!!!!)