How would you react if you are asked to be a model?
sure, it'd be really easy if you are 18, gorgeous, tall, slim, have some free time.
No kidding, I was asked to go for a casting in Germany by a talent agent when I was partying. Haha! Of course, the first thought was, please don't cheat on mummies like me! Hong Kong has plenty of crimes related to modelling agencies cheating on 'models-wannabes'. They claim to train you up and charge you money before you work.
Then I looked at the name card. A&F???? Abercrombie & Fitch???????
The brand that hired
10 thousand hot guys
with only red boxers to have a parade in Central a year ago? Remember what a blast it was? So if I go casting, maybe I can see those guys in person? Bowie would definitely urge me to go. She literally stored all those pictures in her iphone and had added all those guys on facebook. Her dream has always been to touch their muscles. Jesus, she claimed herself to be the wife of Klose (German footballer) she sent me a link saying Klose is one of the most popular names for newborn babies and asked me to consider naming my future kid Klose. We all have one of those friends. And if you don't, I am one of those for you.
But, on my second thought, I came to realize,
1/ I am 5'4, literally the shortest 'model' on earth, even if I am a hand model.
2/ I am in my
late
mid-twenties, which is 10 years late to start my huge career.
3/ I am nothing like a size 0,
or size 2, or size 4
. Abercrombie & Fitch has launched its maternity clothing line?
So the talent agent asked me to go casting in Breuninger the next day, and my gay friend (Let's call him
Jude Law
here) (and everyone thinks he is gay except himself) was pushing me to go. 'You are jobless, please go and do yourself a favour!!!' he said for a million times.
The agent then hovered around to give out her name cards to some other teenage girls around the spot. Her targets were all quite similar
exactly the opposite of me
- German girls, at least 5'10, blonde, slender, nice butt.
Jude Law explained, 'you know, you're the only Asian girl here in this party, maybe in the whole Stuttgart! They definitely want an Asian face. And you look like you're having so much fun in the party. That's why they want you!'
'Do you think they may possibly be going to cast me to be a secretary in their back office?'
'Baby, I told you once, now I told you twice, we gon' light it up, like it's dynamite...' he started following the music and jumping around.
I looked at this cute guy bouncing up and down, setting the world on fire, I knew already tonight he was young, but not me.
* * * * * * * * * * * * * * * * * *
Jude Law called me the next day, before I got up.
'Heyyyy darl', ready to be a top model?'
'yeaaaaa, the drawf model.'
'Come on! move now. JETZT!!!!!!!!! aufstehen!!!'
'Stop speaking German. You're Swedish. Plus, I don't want to go and being asked to pay to get catwalk and makeup training.
I'm already a Pro.
'
Now when I think about it, Jude Law should be the one. He is 6'4, blonde, not sure if he's muscular
and not sure about the rest
but most importantly, he looks like he's gay.
And we all know that gay guys look perfect.
He would be a WOW. He should be doing it for A&F.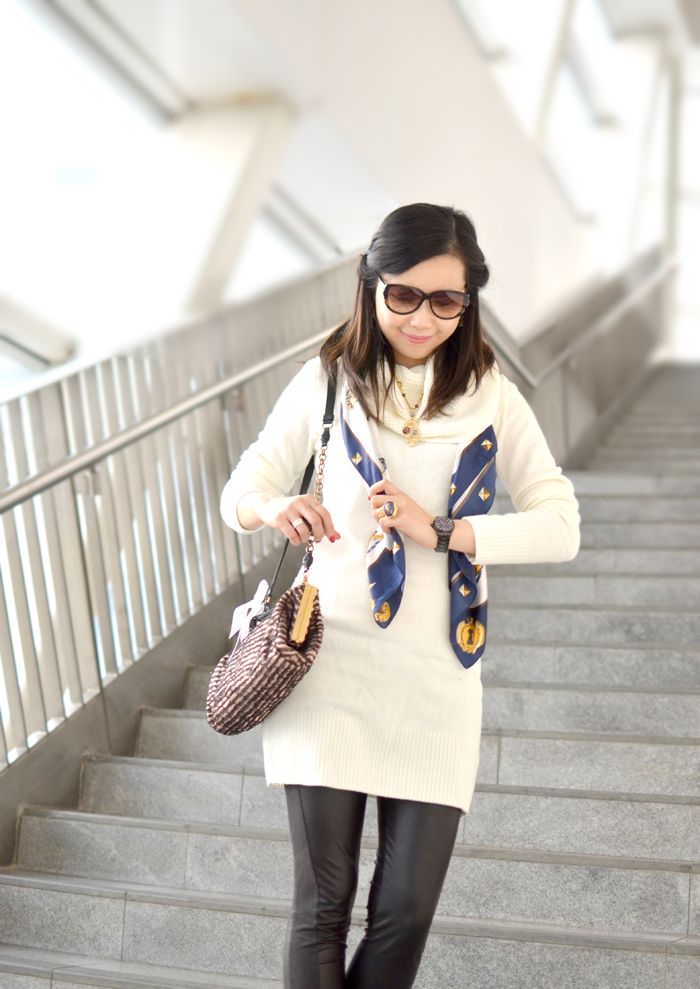 jumper H&M, scarf from Hong Kong, leggings Straduvarius.es, bag Nina Ricci (I also want this /this!), sunnies Marc Jacobs, jewelries Tiffany &Co., Artini, YSL and Chanel