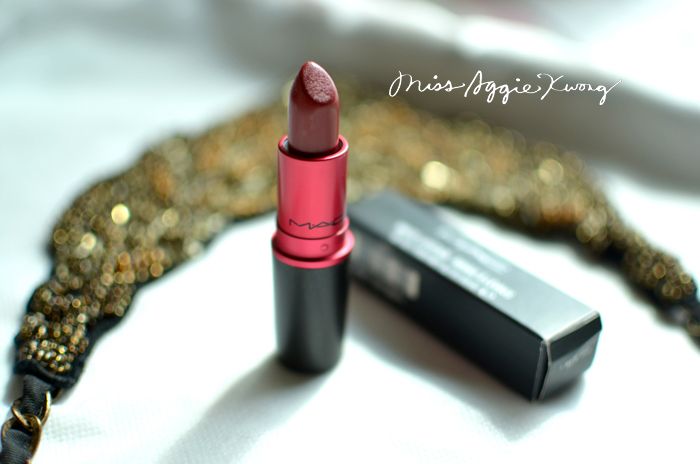 MAC Viva Glam I was introduced in 1994 and this is so far my favourite deep red lipstick. I have been searching literally from all makeup brands for the perfect red lipstick and this is the one for me. Russian Red is the real red that most girls go for, but Viva Glam I is a deeper brownish blue tone Marilyn Monroe red that looks greater on pale skin tone. It has a matte finish and will be stuck in fine lines, but it has amazing opaque pigmentation and lasts for a decent amount of time and leaves a red stain behind. I put on some lip gloss to blur my lines in the picture. Personally orange red/warm red don't work on me (think MAC Ruby Woo or Ladybug) - deep red makes Asians more photogenic and it defines the lip shapes well on yellow skin tones. I have not experienced any feathering or bleeding so far, and it looks super classy. I don't find it drying my already-super-dry-lips considering it's of a matte texture, proper exfoliation and application of lip balm beforehand are important.
All the profits of Viva Glam will go to MAC Aids Fund
to
support men, women, and children living with HIV and AIDS.
Pigmentation: 5/5 opaque deep red that goes smoothly on my lips
Longevity: 4/5 lasts for a decent amount of time and leaves a stain behind
Hydration: 3.5/5 it's of matte texture and it does not dry my lips if I put on lip balm. I usually top it with lipgloss but the matte effect will disappear
Packaging: 4/5 theclassic MAc lipstick packaging with a red line along the lids
Price: 5/5
$145 HKD/

€18.5 in Germany, but all profits are donated to charity
Overall: 4.3/5
You may find me wearing this in this
post
.