Foolproof shogayaki recipe
12:38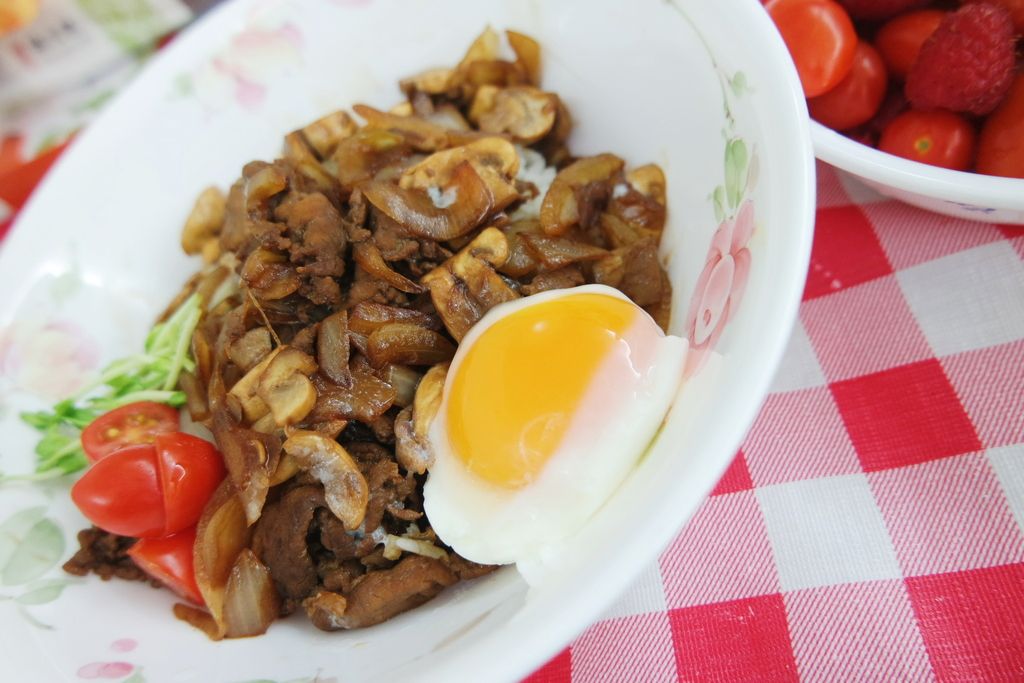 This evening I decide to go green for the first course crowned by bean sprouts and cherry tomatoes, then serve myself pork shogayaki in Japanese style, which means pork slices in ginger and teppanyaki sauce. It is a real winner as it takes no time and is so easy to make. I also thought the dish deserves to be decorated so I add a soft-boiled egg to jazz it up and I can dip my rice and loin into the runny yolk. Herewith the foolproof recipe...
最近我發現了一個90%能令鼻哥從白天的黑臉變黑夜的笑臉的方法,就是做飯給他吃。畢竟人飽了心情就會變好!這天我六時下班,思考怎樣能在45分鐘內做好一餐飯呢?就是以日式豚肉生薑燒和三文魚沙律對付他這個黑面神~
出錯機會率超低!推薦給時間緊絀的你啊❤❤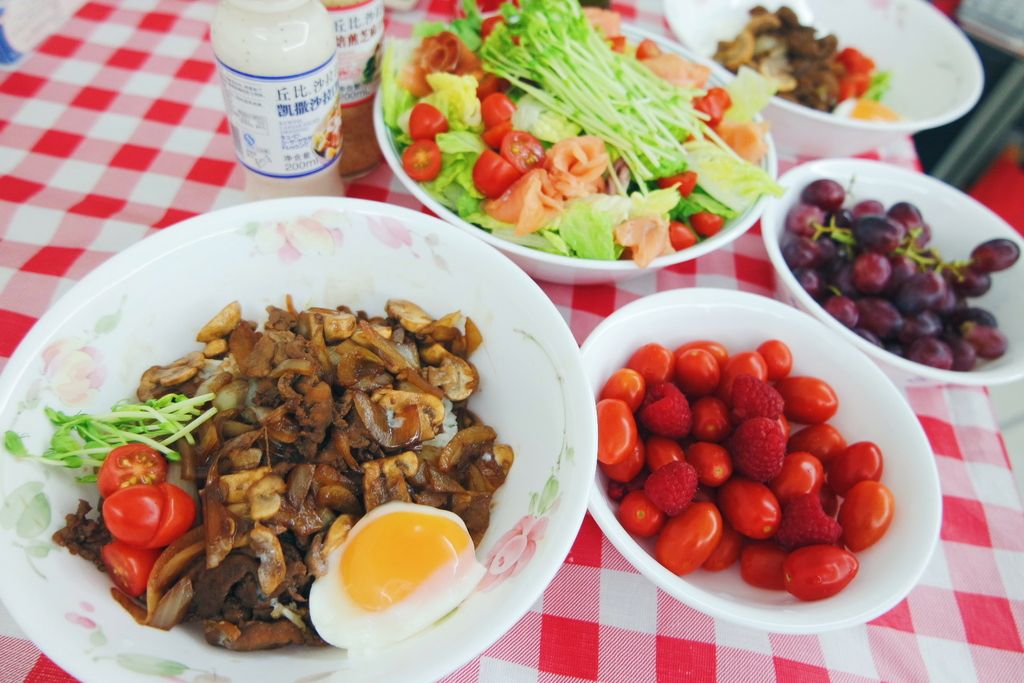 豚肉生薑燒
二人份量
材料:
火鍋豬肉片/梅腩肉片/豬肩肉片200克
小洋蔥1個
薑泥/薑汁1茶匙
照燒汁2湯匙
老抽豉油2匙
米酒1茶匙 (非必須的)
砂糖半茶匙
栗粉1茶匙
麻油1茶匙
油2湯匙 (我用栗米油)
蛋2隻 (我用白色日本蛋)
白磨茹8-10個
煮法:
1. 豬肉片以薑泥/薑汁,照燒汁,老抽豉油,栗粉,麻油,米油,少量洋蔥及砂糖醃半小時。
2. 用平底鍋中火煎洋蔥及切了片的白磨茹。
3. 轉大火加入豬肉片煎至金黃色,轉小火拌炒至豬肉全熟。
4. 把所有倒在米飯上, 珍珠米更有日本風味架~
基本上是你喜歡放什麼就放什麼喇哈哈
這天我用了西生菜,櫻桃小蕃茄,香菜,紫椰菜,绿豆芽,洋蔥和煙三文魚柳,加少許橄欖油或凱撒沙律醬就大功和成咯!沙律材料配搭我一向非常隨意,大家也可隨喜好加一點麵包粒,薄荷葉,檸檬汁或巴哈馬芝士碎呢。
Shogayaki
serves 2
200g sliced pork loin
1 small onion 1 tsp ginger/ ginger sauce
3 tsp teppanyaki sauce
0.5 tsp sugar
2 tbsps soy sauce
1 tsp rice wine (optional)
1 tsp cornflour
1 tsp sesame oil
2 tbsps oil
2 eggs (preferably Japanese eggs in white)
8-10 pieces of champignon mushrooms
1. Marinate pork loin for30 minutes with soy sauce, teppanyaki sauce, rice wine, cornflour, sesame oil and a bit of onions.
2. Heat wok with 2 tbsps of oil, add onion and sliced champignon mushrooms.
3. Saute pork loin over medium heat until golden brown.
4. Place the pork slices on top of Japanese style plain rice
Smoked salmon tomato salad
serves 3-4
Salad is always a great appetizer to boost my fiber intake, and I dunk some bean sprouts and smoked salmon slices into a melange of lettuce, cherry tomatoes from Malaysia, sliced onions, purple cabbage, with olive oil/ caesar salad dressing. Whisk in some bread crumbles, Parmesan cheese and mint leaves or add a drop of lemon juice if desired..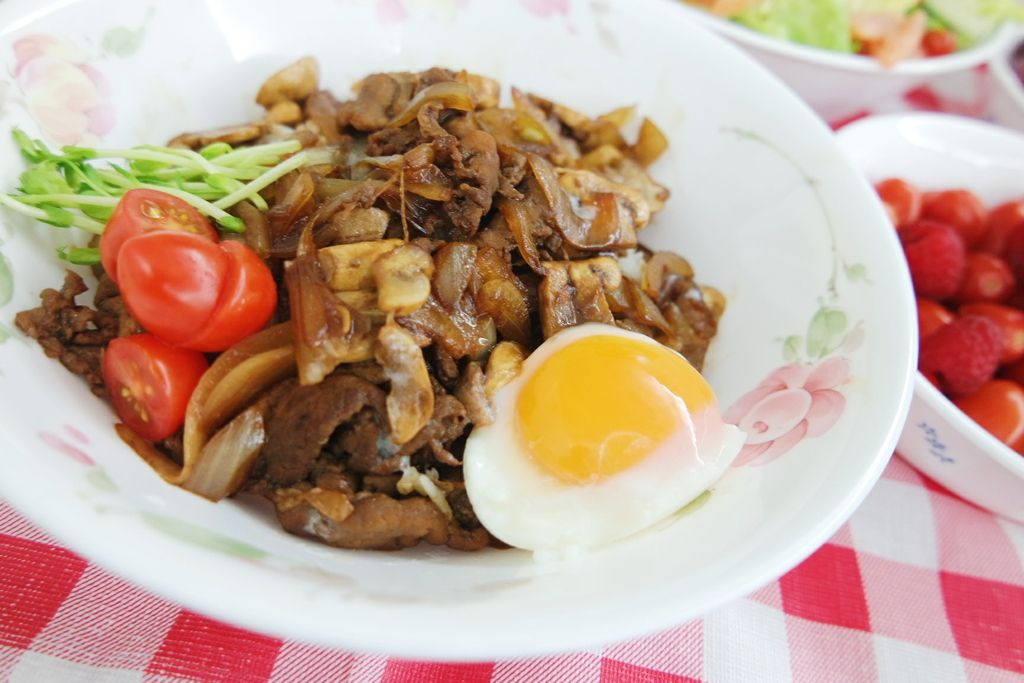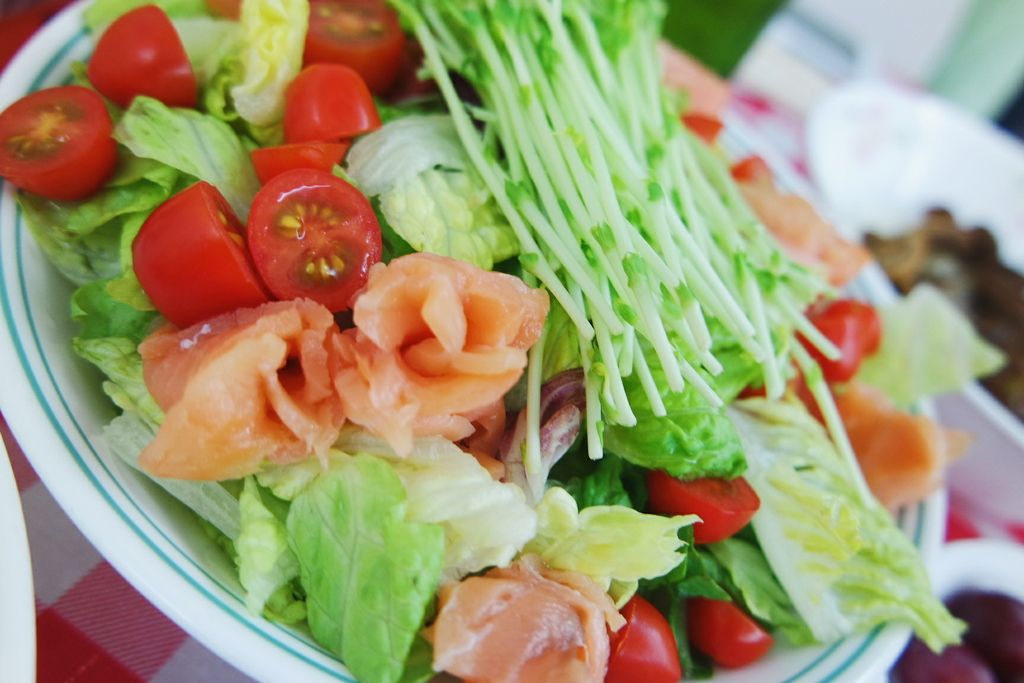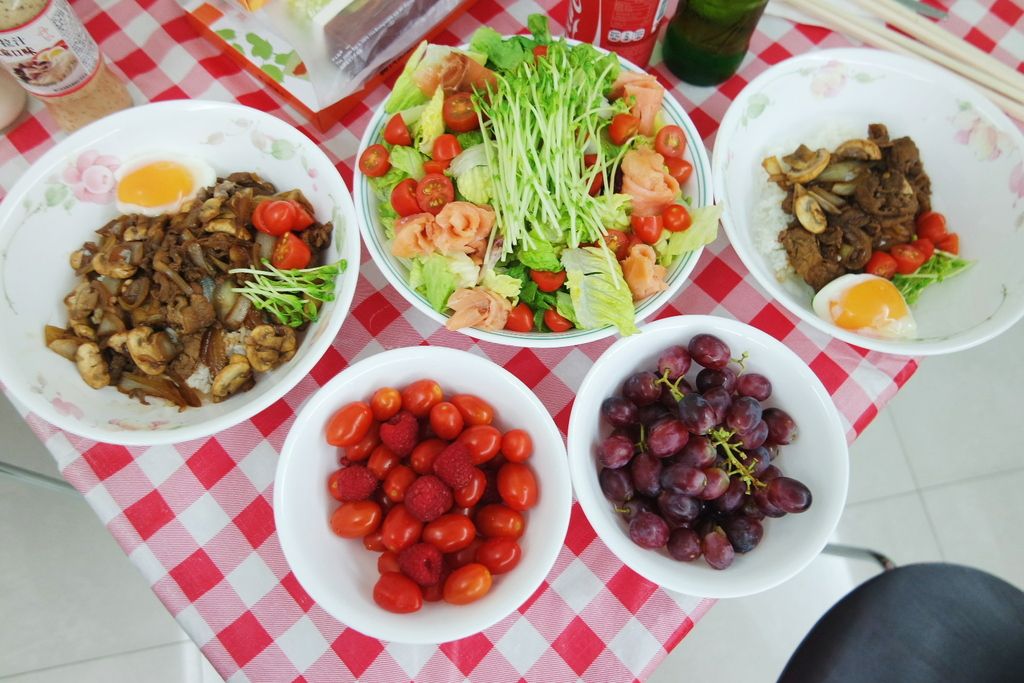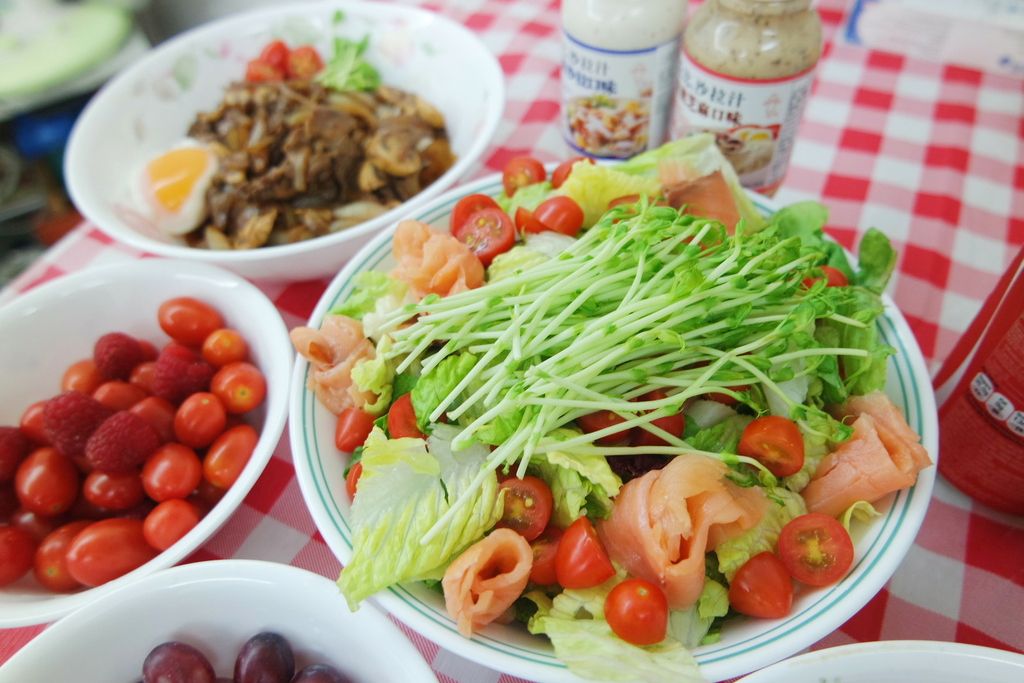 半熟糖心蛋的做法會在下一篇講,敬請期待啊😊😊
For a runny egg-yolk? Stay tuned! 💓